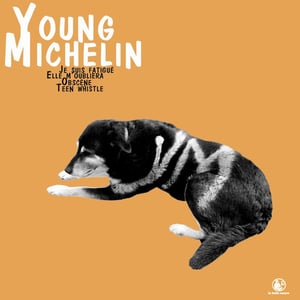 €

6.00 - On Sale
YOUNG MICHELIN "self-titled E.P" single 7"
Tracklist:
A1- Je suis fatigué
A2- Elle m'oubliera
B1- Obscène
B2- Teen whistle
YOUNG MICHELIN is the new project by Romain (DONDOLO) Guerret, under the inspiraton of Great-Britain for the sad and energic guitars (C86, THE WAKE, Sarah records bands..) and the French scene for the straight and direct lyrics, filed under LES OLIVENSTEINS, LES DOGS or ETIENNE CHARRY.
"Soundtrack for summer memories captured on a vhs" (Chaotisch un Charmant)
LTD VINYL ONLY ! OUT THE 8 TH OF MAY.
(p) La Bulle Sonore/ Julie Tippex/ Young Michelin